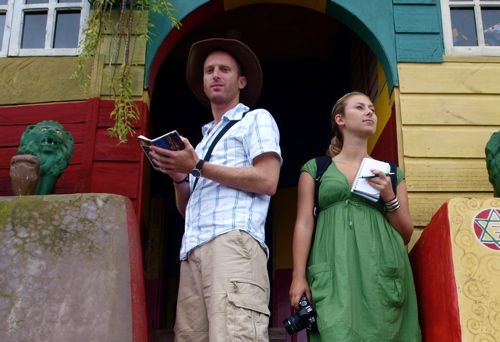 While travelling to exotic locations and writing about enlightening experiences may sound like an adventurous occupation, the life of a travel writer is not always as glamorous as it seems. WORD TRAVELS is a TV series that follows freelance journalist Robin Esrock and national travel columnist Julia Dimon as they battle deadlines, jetlag, culture shock – and each other – to file the best travel stories possible. Filmed in 36 countries across six continents, each half-hour episode of this 40-part series reveals the real story of professional travel journalism – the truth behind the byline.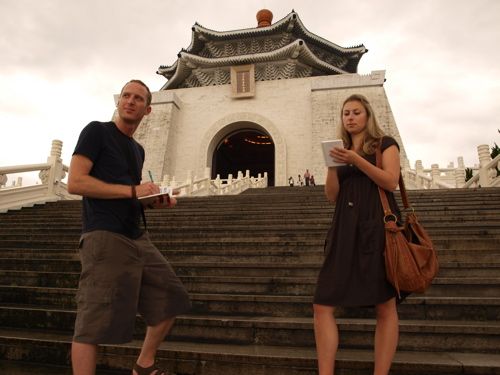 Join these two young writers as they travel the world while sleuthing stories, following leads and working to strict deadlines. And while Robin and Julia experience the incredible vistas of natural beauty found worldwide, it's often not the stunning visuals that make the story, but rather the drama behind the scenery. See how cancelled flights, antiquated Internet access, language barriers, strange local cuisines, homesickness and living out of a suitcase are just a few of the occupational hazards Robin and Julia face along the way. As they journey to destinations as exotic as Sri Lanka, Portugal, Ethiopia, Venezuela and Ukraine, Robin and Julia discover the fascinating stories behind the people and places that colour their journey across the world. Edited with a music video edge and scored to some of the hottest indie music, this documentary series mirrors the very world it discovers: unpredictable, emotionally charged, breathtaking and full of surprises.
To view episodes online visit OLN's homepage (Canada Only)
Word Travels is broadcast around the world!

CANADA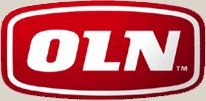 OLN is Canada's destination for adventurous entertainment. Through such homegrown hits as Survivorman, Mantracker, Angry Planet and Ed's Up! and the internationally-acclaimed The Amazing Race and Tour de France, OLN offers viewers a chance to take part in real and rugged experiences. And with exceptional travel programs like Departures, Pilot Guides, Word Travels, and Which Way To… OLN proves the world is literally one click away. OLN is part of Rogers Media Inc., a division of Rogers Communications Inc. (TSX: RCI and NYSE: RCI) which is a diversified Canadian communications and media company.For more information visit: www.oln.ca
To view episodes online, visit OLN's homepage (Canada Only)


Citytv™ television stations in Toronto, Vancouver, Calgary, Edmonton and Winnipeg offer viewers intensely-local, urban-oriented, culturally-diverse television programming. A distinct alternative to other conventional television stations, Citytv engages its viewers with dynamic on-air personalities and delivers an entertaining mix of news, local-interactive formats such as: Breakfast Television and CityLine; as well as local Canadian and US acquired prime time entertainment programming.Citytv is a part of Rogers Broadcasting Limited, a division of Rogers Communications Inc. (TSX: RCI and NYSE: RCI) which is a diversified Canadian communications and media company.
WORLDWIDE

Travel Channel is the leading international travel broadcaster, transmitting 24 hours a day in 19 languages across Europe, the Middle East, Africa and the Asia Pacific region. It is operated by Travel Channel International Limited (TCI) - an independent company headquartered in London, UK. Travel Channel is designed to nurture the universal human impulse to experience the world's diversity. It addresses all facets of the travel experience, from luxury getaways to backpacking adventures. It provides practical advice in selecting and planning real holidays, but also allows viewers to just sit back and vicariously experience fascinating places in the company of engaging presenters from all across the world.
For viewing times and more information, click here


Word Travels is also broadcast on Nat Geo Adventure worldwide. Bold, high impact and exciting, Nat Geo Adventure unleashes the spirited adventurer in all of us. Nat Geo Adventure chronicles the unfiltered experiences of young travellers whose journeys take them to the edge. Exhilarating stories and thrilling imagery fuels an audience eager to stretch their own limits and understand the real world beyond their borders. Nat Geo Adventure is available in more than 40 countries around the world including Italy, Singapore, Hong Kong, Indonesia, Thailand, the Philippines, Australia, Israel, Africa and the Middle East.
Halogen is a US television network featuring empowering entertainment that launched in 2009 in over 13 million digital homes. Using film, documentary, episodic and other formats, Halogen offers a wide variety of lifestyle programming—approximately 500 hours of exclusive, original and licensed content—that aims to motivate viewers to make the world a better place. Halogen is also available through Video On Demand. Future plans include rolling out on mobile and international distribution by 2011.

Word Travels is produced by Omni Film Productions

Vancouver-based Omni Film Productions is one of Canada's most respected television production companies, producing top quality programming in a wide variety of genres. Since 1979, Omni has produced over 175 hours of television dramas, documentaries, factual and lifestyle series and childrens programming garnering over 75 national and international awards. Along with WORD TRAVELS, soon to number 39 episodes, Omni's series include ROBSON ARMS and ALICE, I THINK (both for CTV and The Comedy Network), THIS SPACE FOR RENT, EDGEMONT, STUNTDAWGS, MAKE SOME NOISE, THE ODYSSEY, CHAMPIONS OF THE WILD, ANCIENT CLUES, QUIET PLACES, HEALTHY HOME, HI-TECH CULTURE and, most recently, the mini-series DRAGON BOYS and the series ICE PILOTS NWT. Omni is currently in production on the 13 x hour-long drama series DEFYING GRAVITY, a Canada-U.S. co-venture for CTV and Fox Television Studios, which will air in Canada on CTV and Space, in Britain on BBC, and in Germany on ProSieben.

Word Travels is executive produced by Heather Hawthorn-Doyle, head of Omni Lifestyle, a division of Omni Film Productions Limited. WORD TRAVELS is produced by Omni Film Productions Ltd. in association with OLN and with the participation of the Rogers Cable Network Fund, Rogers Telefund, the Province of British Columbia Film Incentive BC, and the Canadian Film or Video Production Tax Credit Program.