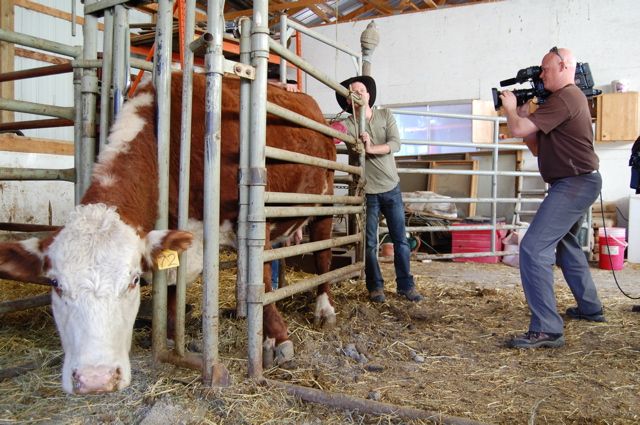 I've lived in Vancouver the past 10 years, and relatively speaking, the Albertan Rockies are in my backyard. Canada is the second largest country on the planet, so backyard is relative, but I'd been waiting to see the Rockies for years. Word Travels has not only helped me find great stories, but also help me tick off my bucket list. Originally I planned to go heli-skiing, which I've heard is as amazing as it sounds. But in spring, the only place we could do that was across the provincial border in British Columbia, which wouldn't do for an episode based in Alberta. So we looked around for heli-activities, and found heli-yoga. Every time I tell people about it, their jaws drop. Taking a helicopter into the mountains to find the perfect place to do yoga? It's excessive, incredible, beautiful, thrilling – all adjectives for the life of travel writing. We were staying at the gorgeous Fairmount Lake Louise, and I remember waking up that morning praying for a good weather day. With our crazy schedule, we only had one shot for the heli-story, and we needed a clear sky. As would happen most times this season, the weather played ball (perhaps to make up for the last season, where it caused a bit of havoc). Our instructor Martha was fantastic, as were the folks at Icefields Heli. Once we were done, we joined them for a beer in their quarters to watch an ice hockey game, rounding off a quintessential day in Canada.
I described Skyline Ranch's Bill Moynihan as chewing Jack Palance and spitting out Sam Elliot. I'm a born and bred city boy, and here I would be asked to spend two days with a cowboy legend, a true outdoorsman. There was no point pretending I could do half the things he could (like when he picked up two bricks of hay and I could barely hoist one), but as always, I tried to throw myself into the story and do my best. Our director of photography Sean Cable throws himself into his job too, hanging out helicopters (which you can see in the show), standing on boats and bikes. He got a little more than he bargained for when he mounted a horse for a point of view shot of me rustling up the cattle. Sean can ride, and he's filmed atop horses before. He just didn't expect his horse to take off on him, barely clutching the reins, his big expensive camera on his shoulder. To this day, I believe it's the closest he's come to losing his gear, and he's got new respect for horses too. I never learned to ride horses properly, so it always amazes me that I manage to stay on. Considering horses featured in Jordan, in Slovenia, in Alberta and later in Barbados, I think I've become pretty good at not falling off.
So the sun is setting and spirits are high. That's where you get shots like Julia and I throwing our hats into the purple sky. We don't plan or script these things, they just happen. We've had a more than a couple cans of Lucky Beer, and I challenged Bill to lasso me up, like a steer. Now these ropes are not soft. I take off a little quicker than I should have, and Bill flicks the rope, which somehow manages to graze my eyeball. Yes, graze my eyeball. It swelled up big and red, and I wore it like a badge of cowboy honour.
I had such a great time in Alberta I went back a few months later for the Calgary Stampede, the biggest rodeo on earth. It gave me further, valuable insight into cowboy culture, and a great deal more respect too.
Read more Behind the Scenes from Alberta at Robin's blog: http://www.moderngonzo.com/reports/cowboys-and-heli-fun-in-the-rockies/
< back to the episode
< back to the list of articles