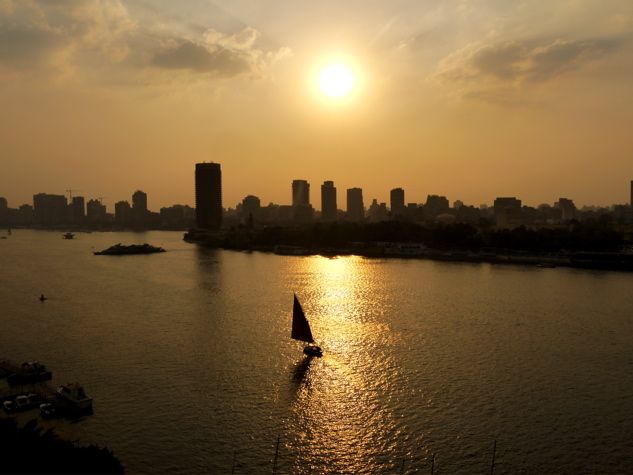 Sean and I are drain a couple bottles of Stella beer, staring over the River Nile from my balcony of room 709 in 150 year-old Shepheard Hotel. It's 3am, but the Cairo traffic remains intense, as it has the entire day, the entire week. Traffic flowing like the muddy waters of the Nile, the world's longest river, the lifeblood of a country comprised mostly of desert. Most of its 83 million inhabitants live near the riverbank, that's 99% of Egypt's population concentrated into a mere 5% of its land. It explains the crowd, the chaos, the 24 hour rush hour.
Everyone knows that Cairo shouldn't work, and yet somehow it does. There's just too many people crammed into too tight a space. Too many cars on the road, blaring their horns, spewing leaded fumes into an atmosphere laced with smog so thick you'd swear it leaves splinters in your throat. Constant jostling on the sidewalks, Frogger in the cross streets, people tripping over each other in metro stations, clothing shops, bazaars and tea shops. It hasn't rained in 10 months, and everything is caked in a safari-yellow dust, blown in from the desert that encroaches the city's limits. From atop a viewpoint, sucking on an apple-flavoured hookah, I see the sun set like a deep orange egg yolk being lowered on a string, disappearing too high behind an impenetrable black cloud of gases. It is hoped rain will wash the pollution away one day, like a shower clearing away a ring of muck around the bath tub. But in one of the world's most polluted cities, where two million cars choke the potholed roads, and fires burn sugar cane for fuel, it will take more than just a thundershower. I savour the Stella, the Egyptian beer brewed since the late 1800's as it washes down the soot in my throat. And the traffic slugs forward.
Did you know Egyptian men belly dance? I didn't, which is I was keen to meet Aleya, an American bellydancer who transplanted herself in Cairo to learn from the masters in the home of the Belly Dancing. Only problem being, the Home of Belly Dancing no longer welcomes belly dancers, unless it's for tourists on the bright-lit Nile dinner cruises, or in seedy underground cabaret bars. It's tough times to be a belly dancer in a nation constantly slipping into religious conservatism. Once the pride of the harem and the pinnacle of sexuality, the largely tame belly dancers are regarded nowadays as whores and harlots, entertainment to be tolerated for tourists. It's traditions and beauty, it's art and skill, are slowly being sunk to the bottom of the Nile. In a city where women are advised to cover their heads, and where many cover their entire body save the slit of their eyes, there's no room for bellies and sequined brassieres. Aleya, a busty and boisterous Latino, waves off insults and dirty leers the way you'd wave off flies in the bush. "Haram alayik, emshee!" Shame on you, go away! She accompanies us to Khan Al-Khalili to get kitted out. Here we entered four floors of bright coloured sequined dresses, a virtual bellydancing megastore, hidden into an alley, decidedly low-key. Men typically wear robes, but for the sake of quality entertainment, I picked out purple pants, flecked in gold sequins, with a red fez hat for effect. Julia found a gold ensemble, and we headed to a dance studio to learn some basic moves. It's quite the workout, involving a lot of core exercises, hip shakes and stomach pulls – by the end it's easy to see why belly dancing has taken off as a gym alternative, and why dancers like Aleya feel its addictive. We were joined by a small man with a large drum, and shook, rattled and rolled our bellies to the amusement of kids waiting for their ballet lesson.
Later that night, we ate dinner aboard a Nile Cruise with dozens of other tourists, watching traditional musicians soundtrack a whirling Dervish, a man who gently spun in a circle for a half hour without stopping once. The main act was an Argentinean belly dancer who wooed and wowed the Chinese, shaking her belly evocatively, rattling the pillars of Islam. The boat cruised along Cairo's riverbank, hushed by the din of traffic, a fog of pollution protecting the stars above. This is a city of secrets. It would take months if not years to try and figure them out. It's better for tourists to just hit the museums and the pyramids, the cruises and souvenir markets. It's perfectly safe to pop the bubble (I enjoyed a great haircut and barber shave in a smoky salon), but the heat, dust and noise quickly take their toll.
< back to the episode
< back to the list of articles