Backpacks have karma. I'd been travelling for a dozen years with the same backpack, worn, dusty, full of holes, and so I was nervous about upgrading to the spiffy new Tatonka you see in the show. See, I've never missed a flight, and I've never lost my luggage. Hundreds of flights we're talking, and that old maroon warhorse was always on the conveyer belt. Now I had a sleek black rocketship (how can you tell I'm a backpacker?) and how would that change the cosmic force that watches over me?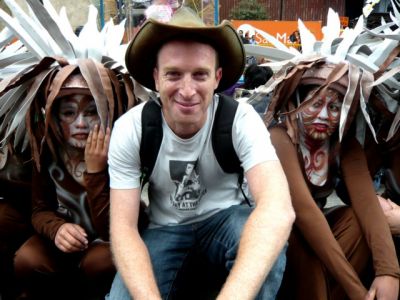 Colombia was our first destination on the shoot, and sure enough, we lose our luggage on the first flight. All we had were our day packs, some camera gear, and the clothes on our back. That's why you see me wearing a gray poncho - Bogota was freezing and all I had was a thin fleece. Our luggage did find it's way to us a few days later, but when you're country number 1 out of 12, it was a suspiciously turbulent start. Fortunately, everything survived in the end (despite a few scares, here and there and Ethiopia), except for the boom pole, the occasional garment, and possibly our sanity.

Colombia was full of surprises, as I knew it would be, and hopefully our show will encourage people to visit. Friendly, beautiful, misunderstood. The carnival was sheer luck (another sign of things to come), can you imagine, just stumbling upon it? Other shows have teams of researchers who figure this kind of thing out well in advance, but Word Travels is not like other shows..we travel as we normally do, hoping we'll find the stories we need as go. I never felt threatened in Bogota. On the contrary, I found locals to be friendly and welcoming. I ended up partying one night and was overwhelmed with the way people responded to me (and the beautiful girls everywhere, as Borat would say, wowoweewow!)

Colonial Cartegena was old and interesting. It was my first night sharing a room with Sean, our camera guy, so I shouldn't have been too surprised to wake up and find him pointing the camera in my face. I had the meanest hangover, just death, and hey, look! smile for the camera! I made a decision not to be afraid of the lens before we left on our journey, so when you see me look like hell, that's because I'm toasting in it. The night before the volcano the team ended up partying, and the two things you don't see in the show is how freakishly hot and humid it was, and just how rough we felt from the previous night's rumble with the cheap rum. The mud really was a miracle cure, until it sucked us dry through the pores and Julia and both almost passed out. The rinse in that lagoon (which was a few meters down stream from the latrines) was intense...I had to guard my nuts with my life. By the way, in case you're wondering, my ass is one big blur in real life too.

We were in seafood heaven, and hit the ground running, and I remember thinking: If every week is going to be like this, I'm going to be a walking corpse by the time we hit Latvia. But each country has such distinct energy, crossing a border never failed to recharge us.


< back to the episode
< back to the list of articles