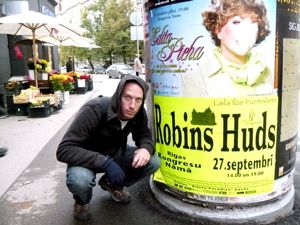 Here was another case of a story that didn't quite pan out as I had hoped, but as you can see in the show, I don't seem to mind too much. I had heard that Riga is a stag party capital of Europe, so the plan was to hit the streets and crash a stag, getting inside the story, as is my custom, in order to experience and understand it, and most likely, get blindingly drunk.

Admittedly, it was freezing and wet off-season, so there wouldn't be as many stags wandering the cobble as there would be in summer, but I was optimistic. Easyjet were offering flights from Bristol to Riga for 10 pounds - hence, "less than the price of a DVD". So off I go, in my backpacker fashion (oh, there's nothing hotter than a blue rain jacket!) but wouldn't you know, I can't find the stags. I hear about them, I just missed them, I occasionally even hear their screams, but I can't seem to find them. In the end, I do meet up with groups of guys from Norway, Scotland and England who have come to Riga specifically to rip it up. Can't blame them in the least - the clubs and bars are excellent, the drinks cheap, and the women are gorgeous. Unfortunately, as I wrote in my report, opening the doors to the stag industry brings in some unwelcome guests, and I had several conversations with locals who were determined to clean the city up. Downstairs from our hostel, we were greeted by a pole dancer in a strip club. They're pretty prominent in Old Town.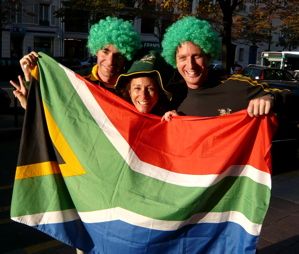 Julia was off to the prison and then I did something outrageous that I hoped would make the show but in the end, it just didn't fit. After partying in the clubs until 4am, I took a camera, hopped in a cab, went to the airport, flew to Prague, passed out on the stone hard airport floor, woke up, bought some absinthe, and flew to Paris to meet some old friends from Tokyo who had secured me to a ticket to the Rugby World Cup semi-finals between South Africa and Argentina. For 48 hours, I explored a sunny autumn Paris in a sports-mad stupor, crashing out on a hotel room floor, wearing a green wig and brushing up my "viva les bleus!", who we were hoping would beat England but instead the French lost (what a downer) and it was left to South Africa to beat them in the finals, which we watched on TV in Thailand a week later. I flew back to Riga just in time to meet the crew, hit the airport again, and this time fly to southeast Asia. Thus is the life of a travel writer.

I would have loved to spend the night in the prison hotel, if you can love to do that sort of thing, but sometimes, it's my job to hit a multitude of clubs and party hard to get a story. I know. Sometimes, I don't know how I do it either.

As a footnote, you hear us in the show wondering if we can sell this story about architecture in Riga. A few months later, I sold it as a feature in a major international newspaper. So yes, to answer our own question, buildings do make great stories.


< back to the episode
< back to the list of articles