"I looked over Jordan and what did I see,
Coming forth to carry me home..."


My week in Jordan played out not so much as a story but as a pearl necklace of experiences. Instead of a beginning, middle and end, I'll string you along with some choice vignettes, scenes of life and adventure, admittedly light on the Gonzo, but heavy on the hummus. If you print this out and shake the paper about, you might even here the muezzin's call to prayer. Bring it to your nose, smell the smoky aromas of fresh-fried falafel. Lick it, and taste the bitter minerals of the Dead Sea. Just make sure you don't get a paper cut on your tongue, because that would suck. I'm 20,000 feet flying between Dubai and Ethiopia, and this is me, getting my kicks.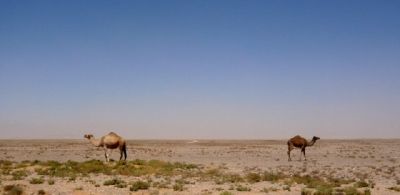 The Setting

Jordan, as in, the country that lies on the banks of the River, ruled by a popular king, an inspiring and beautiful queen. Ally of the US, peace treaty with Israel, lacking in oil but faithfully greasing the wheels of the region's political machine. Population around 7 million, including over a million Iraqi refugees, no shortage of Palestinian refugees too. "I want to be successful," a young guy tells me at a swank club called Nye, heaving with bosoms and pounding house music. "You don't want to be in the country and not be." Most women appear to wear traditional hajibs, many don't. Chaotic traffic. Amman's malls are like any other - one is called, oh the irony, Mecca. MacDonalds. Starbucks. Popeyes Chicken. 2000 year old ruins in the skyline, Roman and Byzantium relics line the streets the way other cities parade waste. Package tours and backpackers, but it ain't all cheap, the US dollar is 0.70 dinar, but a dinar buys you here what a dollar buys you there. Press trip hospitality means five star all the way, and I could get used to sitting by a refrigerated pool if not sipping a $10 beer, and I could get into politics and I could get into truth, but that's the time for wisdom, and now's the time for youth.

Petra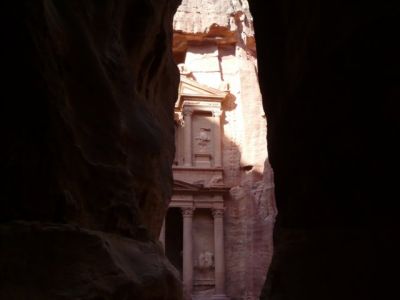 I say Jordan, you say Petra, newly inducted into the New Wonders of the World [refer to my other story this week]. Indiana Jones really made the Treasury famous, but people have been coming here for years, or at least since it was introduced to foreign tourists through the efforts of a European explorer. The Treasury - misnamed because treasure hunters once thought the King's tomb housed all manner of riches - was carved into rock over 2000 years ago, yet looks like the facade of a 20th century bank. A few minutes' walk from the hotel, I greet touts with an enthusiastic "Welcome to Jordan!" as a sort of pre-emptive strike. From the amount of people who greeted me all week, they should print "Welcome to Jordan" T-shirts like the Thai print "Same Same". So you walk down the canyon, along a well carved gravel road, avoiding speeding horse carts loaded with sunburnt tourists, and whistle the theme song. Da Da Da Da, Da Da Daaaaa. Each bend belongs in the chase scene of a historical adventure, almost distracting you from the fact that the rocks turn ruby with the early morning sun, lending the chasm an effect not unlike a CGI scene in a video game. I walked a half hour until a slit in the rocks stopped me in my tracks, revealing the glowing jewel of the Treasury. The memory card in my camera shuddered, knowing full well the abuse to come. Click. Click. Click. The people known as the Nabateans did all sorts of clever things two millenniums ago, mastering a water system to tame the harsh desert, building a trading post bustling with Asian, African and Middle-Eastern merchants. History rolled on, the Nabateans didn't, but today their legacy is Jordan's biggest tourist attraction, and rightly so. I joined the throngs (clicks? nametags?) of French and Italian tourists to explore the temples and caves, baking in the nuclear heat. Click. Click. Click. An hour to relax at the pool, and rush to catch the sunset in the Urn Tomb, a less-restored marvel with a massive chamber perfect for, say, the German tourists who broke out into spontaneous hymn. I strike up a conversation with some friendly Jordanian students, even bump into Hollywood's Delroy Lindo. Sun streams into the chamber like spotlights on a concert stage, and I find a little spot on some nearby rocks to write some thoughts , like: "There's an energy in the Wonders, an element that triggers an emotion, an experience, an archetypal memory that resides in our human consciousness, just as sure as aroma resides in an ancient spice." Whatever that means. Then I look up and a murder (fraud? felony?) of crows are circling overhead. The sun sets, a donkey screeches, the tourists are gone, and Petra's colours deepen. Ghosts awake and belly dance.

Petra Part II

Truthfully, I'd make a crap Marlboro Man. Born and raised in a city, I smell sales, not trails. Tools turn to fools in my hands, and I firmly believe the only way to start a campfire is with a can of fuel and a big pack of Lays (watch those potato chips burn!) So why have I taken so fondly to galloping on horses, without any lessons or technique other than holding on tight and trying not crush my gonads? It started in Mongolia, and now here I am, racing an Arabian Seabiscuit across the desert, sweat drops forming on the hairs of its neck. I ride a horse the way I ride a story. Hang on, hope it takes me where I want to go. In this case, towards Little Petra, although Sean (tall, bald, camera) saw a time lapse and Brown Stallion was exhausted so I took to the hills, scrambled up a rocky boulder, and found a stairway to heaven. [God, this is all sounding dramatic, the result of an unlikely Jane Austin movie being screened on the plane.] Stairs had been carved into rock, leading up to a couple of one-man caves, tailor made for people like me (or, according to local historians, Jesus) to meditate and ponder life. The landscape greatly resembled the Chilean Atacama, and the experience greatly resembled the time I got lost in earth's driest desert, and climbed a hill to get my bearings. That day was rescued by a lost Japanese backpacker named Ken. Today I needed no rescuing. I see an old Bedouin man praying towards Mecca. Camels, donkeys, a loyal scraggly sheep dog. Some guys race a beat-up old car over dunes. Rose-red rocks live up their reputation. Travel buzz.
Continue reading Robin's Jordan Report at his website: moderngonzo.com 
< back to the episode
< back to the list of articles