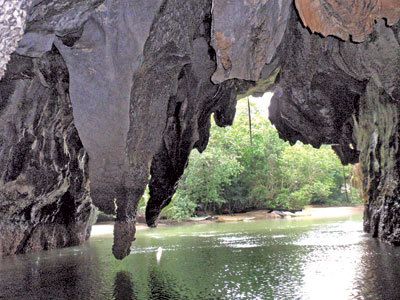 I imagine translucent vampires-types crawling out from the darkness, poking their flesh-eating heads out from behind giant stalagmites. I picture alien creatures emerging from rock recesses, eager to suck back my brain like a Jello shooter.

As I make my way through the cave system of the world's longest underground navigable river, a couple things become clear: No. 1, this Filipino tourist attraction is the perfect natural setting for a horror flick; and No. 2, I've been watching too much TV.

A UNESCO World Heritage site, Puerto Princesa Subterranean River National Park features an 8.2-kilometre river that runs through the St. Paul Mountain range. It's located on the west coast of Palawan Island, the Philippines' largest province, and tour­ists can visit a portion of the river by boat.

After a bumpy 2-1/2 hour road trip from Puerto Princesa's airport, followed by a quick boat trip, I arrive at this protected national park.

I slip on my life-jacket, hop into a small wooden boat, and putter toward the mouth of the cave.
As we approach, the smell is overpowering. It's an acrid combination of ammonia and fish sauce. "Bat sh-t," says the boatman. He reminds me not to open my mouth while I'm looking up at the cave's bat-infested ceiling. Guano isn't a pleasant smell but it doesn't take long before the stench subsides.

There are thousands of bats (nine different species) living in this cave. Using their sonar skills, they flutter about, looking for mosquitoes to eat before dangling upside down on their perches. Between the flying rodents, the bat droppings and the drizzling rain water, I'm happy to be wearing a protective (albeit goofy-looking) helmet.

The cave is incredible. Flooding into the South China Sea, the river has carved out a spectacular landscape of limestone chambers (the highest reaching a ceiling of 65 metres) and impressive rock formations.

Pointing my car-battery-operated flashlight at the rock face, I notice that one outcrop looks like the back of a naked woman, another like a giant jellyfish and a melting wax candle.

Christian pilgrims may be most impressed by a geological carving of Jesus' face. At first I had a hard time seeing the apparition, but when I did, the likeness was undeniable. Millions of years of water erosion has formed a limestone Jesus. "They say that when the cold water drips it's holy water. Hot water is holy sh-t," the guide joked. Cave humour.

Next, we paddled through a section known as the "highway." Passing through the wide colonnade, I felt like Jonah entering the mouth of a giant whale. Stalactites looked like tonsils and mammoth molars.

This underground river is vying to be named one of the New 7 Wonders of Nature, and it has my vote. The landscape is magical, engaging the senses and the imagination. It's a must-see, no question — but do keep an eye out for blood-sucking monsters.
For more articles, videos and travel tips visit juliadimon.com

< back to the episode
< back to the list of articles