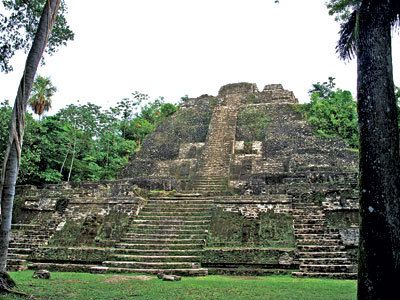 Ruins tend to incite the imagination, conjuring up thoughts of ancient civilizations, lost secrets and mystic rituals. That's running through my mind as I stroll through the moss-covered ruins of a major Mayan city, located in the remote jungles of northern Belize near the tiny town of Orange Walk.

Lamanai, located on the banks of the New River Lagoon, goes down as one of the longest-occupied Mayan sites. It was inhabited for more than 3,000 years and has some of the oldest ruins in Belize. The name itself means "submerged crocodile," in honour of the toothy reptiles that infest nearby waters.

My guide tells me that, in its heyday, Lamanai was a ceremonial centre, with a population exceeding 35,000. Today, it encompasses more than 700 structures, a visitor's centre and a museum. Today, only a small percentage of the site is fully excavated, leaving a wealth of archeological findings to discover.
While many associate Mayan ruins with Mexico, neighbouring Belize also played a big part in Mayan civilization. Visitors can visit Lamanai as part of a tour, which usually includes a boat trip, admission fee and a well-trained guide.

Wandering around the ruins, I can hear the faint cry of a Howler monkey growling in the distance. It's one of those unmistakable sounds — more like a pained, demonic snarl out of Dante's Inferno than the noise of a territorial primate hanging from a nearby tree. Nevertheless, it adds to the air of mystery.

With the entire place to myself, I visit the Jaguar Temple, a huge crumbling pyramid with intricate carvings. Then to the Mask Temple, named for the 13-foot limestone representation of an ancient Mayan king.

But it's the High Temple that's easily the most impressive structure. "At 108 feet, it's the highest structure in the area," notes the guide.

Climbing to the top of it, however, is harrowing. The steps are narrow and slippery, while the steep incline incites vertigo. I cling to a rope (strategically placed so dumb tourists like me don't trip and kill themselves) and nervously make my way up this ancient stone Stairmaster.

"Slow and steady," I tell myself, as I huff and puff up the ruins. Tumbling down this flight of steps would be bad for business.

Once at the top, the view makes up for the climb. It's a striking 360 degree panorama of jungle and river lagoon.

As a colourful keel-billed toucan flies overhead and settles in a canopy of rainforest, it hits me — it's no wonder the Mayans lived here for thousands of years. It's a stunning spot with a killer view, and it showcases the beauty of Belize.

For more articles, videos and travel tips visit juliadimon.com

< back to the episode
< back to the list of articles