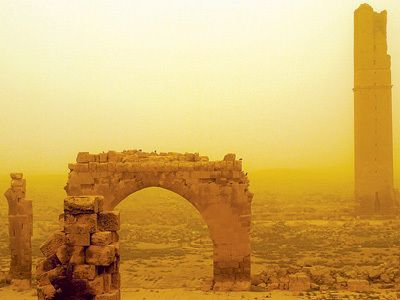 Eyelashes caked with dust, I make my way through the storm like a lost desert dweller separated from her own archeological dig.

In Harran, a tiny town 50 km away from Urfa in southeastern Turkey, sand storms are as common as kebabs. Blowing in from neighbouring Syria, this thin blanket of dust adds to the mystery of Harran, famous for its historic and religious significance.

Existing as early as 2000 BC, Harran is said to be "one of the oldest continuously inhabited spots on earth." According to the Old Testament, Abraham lived here for a time and his father died here. They call Harran one of the birthplaces of the three mono-theistic religions: Judaism, Christianity and Islam.

Today, a visit to Harran means touring the relics of Islamic antiquity. The ruins of the Grand Mosque, a castle and traditional beehive houses can all be seen here.

According to a rusty sign at the site, the grand mosque of Harran is the oldest mosque built in Anatolia and is a good example of Islamic architecture.

While it must have been highly impressive back then, time and war haven't been kind to this former mosque and learning institution. Walking around the ruins, straining to see through the snarling sand storm, I have to wonder: Thousands of years from now, will our own cities be left to crumble, buried under the dust of time for future tourists to find?

From the ruins of the Grand Mosque, I walk a few minutes to find Harran's famous beehives houses, traditionally constructed in conical, ant hill-esque shapes.

Dating back some 200 years, the houses were built with bricks gathered from the ruins of historical Harran. They accommodate the climate, providing habitants with "cool" in the summer and warmth in the winter.

Slurping on strong Turkish coffee, I catch up with a rowdy tour group of 50-plus Israelis. Their group has come to this holy land to learn about their biblical beginnings.

Ruti Millar, a tour guide that comes to this region five times a year, tells me "this area is special and exciting because it's the genesis of our history."

While Israelis aren't permitted to travel to Syria, Iraq or Iran, Turkey is quite welcoming. "The Turkish people are wonderful and very warm," she continues. "We've come here to meet them, see the sights and learn about different cultures."

This is what drew me to the region of Southeastern Anatolia. It was a chance to see a side of Turkey beyond the tourist traps of cosmopolitan Istanbul and the country's Mediterranean seaside resorts. A visit here delves into the ancient histories of the Middle East… under the veil of a good Syrian sandstorm.
For more articles, videos and travel tips check out juliadimon.com

< back to the episode
< back to the list of articles