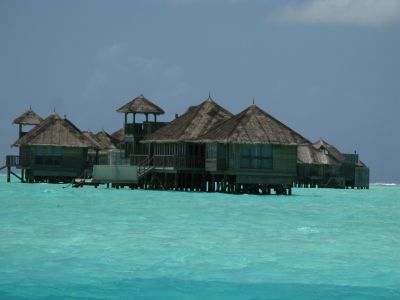 Every year, thousands of tourists come to Maldives looking for fun, sun and a pina colada paradise. A tiny chain of islands in the Indian Ocean, just off the coast of Sri Lanka, Maldives is rich with high-end resorts that promise beach-side relaxation far from the realities of urban living. One thing many tourists might not know is that the Maldives may be disappearing.

In this palm-tree fringed haven, with more than 200 inhabited islands, all is not well. At one metre above sea level, these islands are at risk of vanishing altogether. It's highest natural point is 2.3 metres, making the Maldives one of the lowest countries in the world. With global warming and rising sea levels, some expect the Maldives to disappear almost totally by the end of this century.

Touring the postcard-perfect islands, it's hard to imagine that, one day, this place may be obliterated from the map. I found myself at Soneva Gilli, an extravagant resort with villas that cost a whopping $1,800 US a night.

Here, everything seems normal. Drawing honeymooners, scuba divers and infidels on adulterous week-long retreats, this place is one of the most luxurious pads I've ever stayed in. But beyond the impeccable service and friendly staff, resorts like these are under threat of washing away.

As the ice caps melt, many are looking to islands like the Maldives as an indicator of what's to come for the rest of the world. Maldivian President Maumoon Abdul Gayoom was reported as saying to the British media: "Whatever our fate tomorrow will be your fate the day after."

Under threat of extinction beneath the waves, it's not surprising Maldives was one of the first countries to sign up for the Kyoto Protocol. BBC reports the country has implemented reforestation programs, is working to protect its natural coral barrier and is teaching environmental science in schools.

A trip to Male, the capital city, shows huge cement breakwaters that protect the shores; but despite all efforts, the fate of the country's 380,000 citizens remains uncertain. It has many people asking — will the Maldives become a modern Atlantis?
Fore more articles, videos and travel tips check out juliadimon.com

< back to the episode
< back to the list of articles