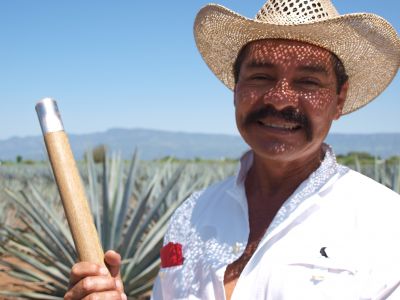 The acrid taste of nailpolish. Throat burning. Eyes watering. An overwhelming feeling of wanting to vomit. These are the sensations I usually experience when drinking Tequila. It may taste like poison but this go-to "let's get drunk" drink always does the trick – bringing even the most reluctant of partiers to the next level of intoxication.

For me, shots of Tequila have always meant trouble. They promise a night of dancing, debauchery and late night greasy dining, followed by a wicked morning hangover. Though I've been knocking back the stuff for years, I've never really given much thought to where it comes from or how it's made.

A visit to the Jose Cuervo distillery, located in the town of Tequila in the Western part of Mexico, gave me a new appreciation for this legendary liquor.

I learned that Tequila comes from fermented and distilled agave, a cactus-like plant with leaves as sharp as the machetes they're cut with. Agave harvesters, known as "jimadors," hack down the leaves to get to the heart of the plant. Housing all the nutrients, the heart (called the "pina&rdquo
is then taken to the factory for processing.

From the field, the agave is transported to Rojena, Jose Curevo's oldest distillery dating back to 1758. Visitors can take a tour of the distillery and see how workers process some 65,000 litres of Tequila a day.

Dressed in a hair net, I walked through the factory as machinery steamed and whistled. The smell of fermenting fruit was overpowering.

My guide warned me against flash photography, since the factory's alcohol-rich air may cause my electronics to explode.

Touring the distillery, they take me through the Tequila-making process. First step is that the raw material will be steamed for 36 hours so that nutrients can crystallize into sugars. It's fermented and the wine is distilled and purified until tequila is obtained.

The tequila is then stored in white oak barrels. The amount of time it ages will determine a Tequila's characteristics, type, odor and taste. It's truly amazing to see how much work goes into one shot of Tequila.

The best part of the tour was sampling the finest Tequila straight from the barrel. I visited a cave-like cellar where they store Reserva de la Famillia, their best and more revered product. It's made from the highest quality of agave and is aged for nearly 5 years.

I swish the warm caramel coloured Tequila around my brandy glass. Apparently, tequila tasting is a lot like good wine. You stick your nose in the glass, swirl it around, and identify the texture and flavours. You look at legs, body and aroma. Much like someliers, serious Tequila-tasters spit but for this novice, I didn't want to waste a drink that retails for hundreds a bottle at home.

With newfound respect for Tequila, I'll think twice about going for the cheap stuff. A trip to Jose Cuervo has not only peaked my interest, but it's turned me into a Tequila snob.


< back to the episode
< back to the list of articles