Not many people know there is an English speaking country in Central America, or that tiny Belize has some of the best hot sauces you'll find anywhere. So good in fact, that every one in the crew loaded up with at least a couple bottles of Hot Mama's or Marie Sharp's - give me that grapefruit habanero goodness!

People expect me to have storage box full of exotic souvenirs, but the truth is I have collected very little in my travels. Artwork doesn't hold up too well when you're constantly moving, and the few items I do manage to bring home I usually give away as gifts. In fact, as I look around my apartment, all I see is this weird clock I picked up in Malaysia, with king scorpions embossed inside it. Of all the things I didn't lose…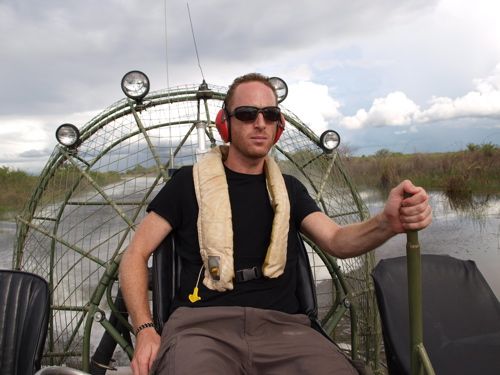 I do not get tired of travelling, but to be honest, a tropical jungle is a tropical jungle, and by the time you've visited four of five of them, they do start to blend in together. Yet there's always something special in each one, be it creatures, ruins, or amazing adventures. Aside from the caving, which speaks for itself, I also had a blast on an airboat in the swamps off Lamanai, racing over reeds with the roar of the propeller against my back. I often find it ironic, and a little sad, that I get the opportunity to visit such incredible places, but sometimes lack the enthusiasm of say a history buff, or an geologist, or someone who would kill a small colony of lepers for the chance to see the ruins or jungles on offer. Lamanai holds many secrets and mysteries, but my head was already underground in the limestone caves of Caves Branch, or thinking about the airboat. Good travel writers have insatiable curiosity, but also the energy and attention spans needed to pack in SO much information and variety in such a small amount of time. The moment we become absorbed in just one subject, is maybe the moment we stop travelling to seek something new.

Our crocodile story was a wash out, and to illustrate this, we decided to stand in the tropical storm doing our best impersonations of lightning rods. We foolishly tried to sit out the storm in hopes of going out on an open-roof boat to find the crocs. It belted heavy rain for days. The amazing staff at Lamanai Lodge took care of us though, with excellent food and some inspired cocktails. The Mennonites came to the rescue, adding an unusual story beat and a quirky alternative to picking up crocodiles.

As for the scorpion spider, let me just say that it scared the bejeezez out of me. It is one ugly mofo, but completely harmless. I reference my mother because only she knows how petrified I was of insects growing up. And spiders. And scorpions. When people ask me if travelling around the world has changed me, I say yes: I can now hold an insect, and not just any insect. I can hold the meanest, baddest insect on the planet.

Our crew does a great job capturing our experience on film, but sometimes, it's technically difficult to project the image of a memory. Rock jumping inside a cave was a new level of thrill, but when I saw the footage, it looks kind of easy. It wasn't. There was a small gap to put your head otherwise you would crack your skull against the rock. I jumped with the camera a couple times to try and capture it, but that's like looking for details on a passing bullet.

I'm going to make a sandwich now, and crack my 12th bottle of Marie Sharps habanero. It's so good it inspired a column about the best condiments in the world!


< back to the episode
< back to the list of articles